HAM Radio Camper Info!
Mike Decossas, KB5OZE
General Class
Official Emergency station Southeast Louisiana
EC St Tammany Parish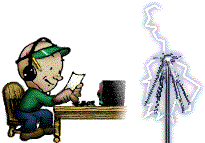 When we go camping, I now have a FT-857 Portable setup. The system works extrememly well. Voice and Data communications are configured on the system. I use an old Comet 2M/440Mhz mobile antenna for vhf/uhf. On HF, I use a SGC-230 antenna coupler for 10-160M driving one 74' piece of stranded 14 AWG wire (that I throw in a tree) and another 125' piece in another tree. The coupler is usually hung from a tree or lantern support and vhf/uhf antenna is usually velcroed to the easy up. It is easy to put up and take down. So far I usually get S9 or better on the MMN on 14.300Mhz and I can usually get into any repeater within about 30 miles.
Here is a picture of the "Upgraded" Porta-Kit

It includes the following:
FT-857D
Signalink USB
KamXL TNC
MFJ HF/VHF/UHF SWR/Watt Meter
Kenwood 23A Switching power supply w/Power Poles
Here are a few pictures of the old house setup. The FT-847, DR-605TQ, IC-38A as well as the meters, rotor control , antenna selector, power supply and tuner.
In the first antenna picture, you see (from the bottom up) the HF antenna (a random wire on a SGC-230 coupler), then the 6 meter beam, the 2 meter beam, the 440Mhz beam and the 220Mhz beam on top. The tower (at the top of the cone) is 48 feet. The second picture is of the AR-270B 2M/440 antenna that I use for local repeater work. It sites on top of 24' hy-gain tower. All of the antennas are fed with either 9913, RG-213 or RG-214 (220Mhz). This set up works fairly well.
Hurricane Katrina didn't like the Rohn 25 tower and took it down.
I have installed a Hy-Gain 52' crank up tower.
I have the following antennas installed.
HF: Mosley TA-32Jr & an 80M/40M coax bazooka
Coming Soon-MFJ 3 element 6M Yagi
2M: Hy-Gain VB-214FM
Cushcraft 11 element 440Mhz beam
MJF 5' dualband ground plane on top
T2X Rotor
I also have a 35' Crank up aluminum mast
AR-270B
Hustler CX-333
Radios
TS-2000 w/ Heil PR781
IC-38A
TM-V7A
PK-900 (HF)
KPC-9612 (VHF/UHF)
Iota DL-45 Power Supply and 16 7.5A/Hr Gel cells
Poly-Phasers on all antennas
Ameritron AL-811H
Please let me know if there is any needed information that is not here. I will be happy to send the "how I did it" info anytime.
Thanks,
mike_@_decossas.com