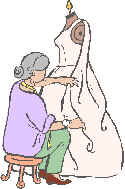 Wedding Snapshots
Our preview album won't be ready for a little while but these are some samples we took with the digital camera before all the festivities began:

This is our altar.

Our cake table.

The back of our ceremony room.

My daughter, Kristin who was my maid of honor, my niece and flower girl Victoria.

Our two bestmen, Johnny and Robert.


Me and our photographer. My bridesmaid Nicole and Kristin are in the background.

This is what a room looks like after a bride and five people get dressed in it.
I Am A Proud Member Of:



Phenomenal Women Of The Web