Gillian Catherine Decossas
7lbs. 3oz. / 19 inches long
born December 27, 2001 at 5:43pm by C/section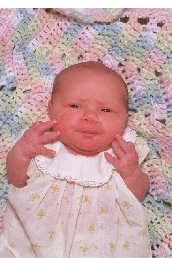 Gillian's first two months home
Gillian's Assorted Pictures
Pictures of Gillian's first happy meal when her bottom teeth came in on June 28th!
Why I never have the laundry done!!!!!!

Halloween 2002!!!
I am so beautiful!!!! Gillian at 10 months! sleeping, walking and playing!

This shirt says saw it, wanted it, told Grandma and GOT IT! and it is so true. Gillian has two grandmothers and one grandfather devoted to her!
Gillian is such a big help around the house. Here she is helping mommy clean the kitchen, helping daddy install a ceiling fan, helping Maw Maw fold the laundry and doing the vacuuming all by herself!
After working so hard doing housework, she decides to unwind by playing in her room!
Finally, she falls asleep from the exhaustion. It's tough to be a baby!

At Mardi Gras and the Zoo and in her new bed
Summer fun!
Click here for Gillian's Six Months, One Year and 18 Months Pictures
Click here for first day of Kindergarten!!!!!!!!